Our Product.
Our sensors are specially designed for agricultural wheels as the valve stem mounted sensor perfectly fits the universal ETRTO V5.01.1 - TR618A rim hole found on agricultural equipment worldwide.

How does it work?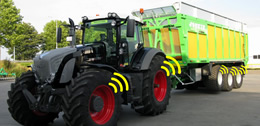 Wireless Transmission
The preprogrammed internal sensors wirelessly transmit data (pressure and temperature) to the dash-mounted display inside the tractor cab.
Visual and Audible Alarms
Visual and audible alarms warn the operator in case of leaks, pressure drops, high temperatures and high/low pressures.
Real Time Data
The operator gets real time digital tire pressure and temperature information on all of the tires.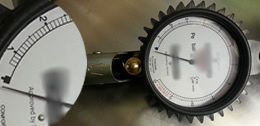 Accurate Measurements
The high range scale on a standard pressure gauge makes it virtually impossible to accurately read the crucial low pressures of the ultra flex tires. Our system measures pressures from 6 psi to 101 psi (0.4 bar to 7 bar).